Staff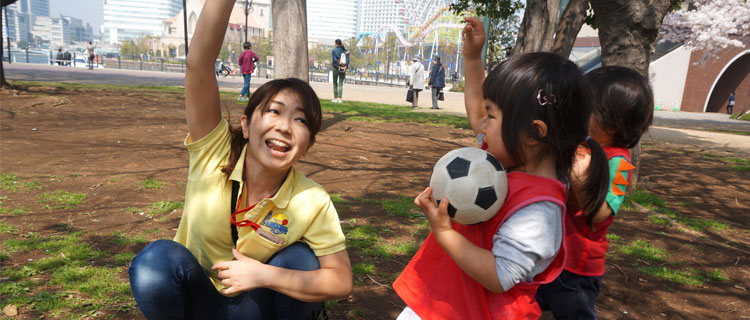 The staff at Imagine are especially chosen for their dedication to children and for sharing the same values as our school's philosophy. It is important for us that staff are able to connect with children and make positive relationships as a role-model in each child's life.
Other important qualities we look for are patience, an ability to give positive praise, and an ability to play with children (not just watch them play). We believe that playing with children is important to develop their creativity and to better understand what they are able to think and do.
We have a mixture of native English speaking staff from various countries as well as bilingual Japanese staff. All staff have university qualifications in various fields and all are trained in infant and child first aid (CPR, AED, first response injury treatment). At least two staff members possess a Japanese license in early childcare (Hoikushi).
We are happy to say that we have a very low turnover in staff, which allows children to establish a strong relationship with all the staff over several years.
Facilities
Imagine is conveniently located in Yokohama's Landmark Tower, less than 10 minutes' walk from Sakuragicho Station and Minatomirai Station.
Located on the 13th floor, Imagine has a fantastic view looking towards Yokohama and beyond.
The interior of the school was designed by Bright Horizons, a major early childhood provider in America. The first thing visitors often say is how Imagine is a lot bigger than what they were expecting from the outside! With two separate class spaces and a shared multi-purpose room, children have plenty of space to play, explore and learn every day.
Inside the classroom, children have easy access to educational toys and games, a wide range of books, musical instruments, physical development equipment and art & craft supplies.
For toddler aged children, a crib room provides them with a quiet place to take a nap, and both classrooms have children sized bathrooms.
Imagines location is convenient for daily outside excursions to many different parks and places of interest, including shops, train stations and the viewing floor of Landmark Tower on the 69th floor.